LeBron Goes on Defensive in Response to Peers' Skepticism
of His Clutch Factor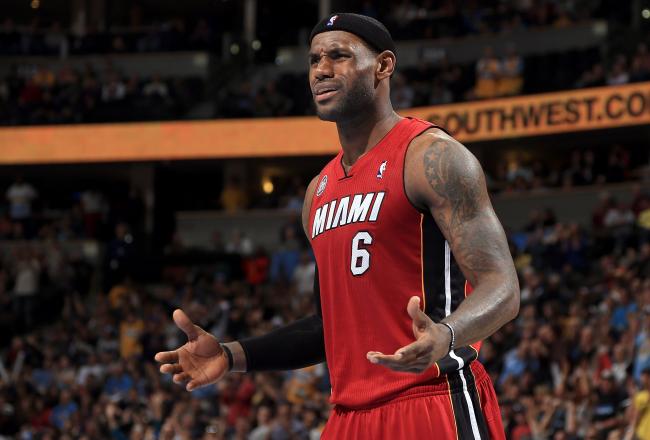 What's a guy got to do to get some respect around here?
Doug Pensinger/Getty Images
LeBron James can't win.
Not literally, of course. All James has done over the past two seasons is collect a pair of MVP awards and two championship rings. In that important sense, he's done more winning than anyone.
But among critics—and apparently, even a sampling of his fellow NBA players—he's still suffering from a startling lack of respect.
After an anonymous poll in which 26 NBA players said they'd pick Kobe Bryant and Michael Jordan over James to take a shot with the game on the line, LBJ fired back. And much like his last-second shots, his comments were exceptionally accurate.
Players in our league said that? All right. I really don't care what 30 guys in our league say about me taking the last shot. I've got a few game winners in my career. I don't let teams hang around too much for the last shot. I don't think the definition of clutch is who takes the last shot. There are guys who come through for their teams in different circumstances.
One thing to note before moving on: Nobody's questioning the wisdom of letting Jordan take a game-winner over James. There are numbers to prove that would be a mistake, which, as we'll see, isn't the case when it comes to the James-Bryant comparison.
LeBron's response was nuanced, well-reasoned and, in fact, a bit of an understatement.
That's because he's done more than hit a few clutch shots in his career; he's actually made more than anyone else since he entered the NBA.
According to ESPN Stats and Information:
Since LeBron came into the league in 2003-04, nobody in the NBA has made more game-tying and go-ahead shots in the final 24 seconds of playoff games than LeBron, who is 7-of-16 on those shots. His 43.8 field goal percentage on those clutch shots ranks the best in the NBA since his rookie season among players with at least 10 attempts. The league average is 28.3 percent on those shots.
So, either Bryant got his hands on this poll and voted 26 times, or NBA players are woefully ignorant of the numbers that prove James is the best clutch player on planet Earth. I suppose both are equally likely.
The other notable bit in James' retort is that he's dead right about the fuzzy concept of "clutch." Typically, the conversation on that topic is limited to last-second shots.
Issac Baldizon/Getty Images
But shouldn't the ability to get critical stops be a factor? Nobody's better at that than James, who's so far above and beyond Bryant as a defender that it's practically a joke to mention the two in the same breath.
And what about the fact that James has been so brilliant, his team so dominant, that he hasn't even needed to attempt many game-saving heaves lately? Where's his credit for stomping the competition by 30, negating the need for a last-second game-winner?
OK, I'm getting a little worked up here. Back to the point: It's absurd that James has to put up with this kind of criticism at this point in his career. He's made a habit of avoiding clutch situations by dominating games for the first three quarters, but even when contests have been close during the most tense time of the season, he's been the league's very best finisher.
These are facts—indisputable and based on statistics. It's too bad James' peers aren't interested in them.